Is it really Wednesday already? It's back-to-school week for us here, so with the schedule change, I keep losing track of the days. We've had a great beginning, though. I hope it's been going well for all of you, as well.
Today's prompt is special because one of my favorite seventh-graders wrote it! Enjoy. 😊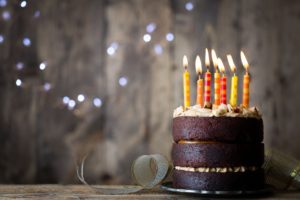 "…happy birthday to you!" the group of kids finished, singing – or, rather shouting – out of tune. They all started cheering their heads off and eyeing the cake hungrily. Mike wondered if he would get any.
Mike was turning nine years old, and he was excited. In truth, he had turned nine a couple days earlier, on a Wednesday, but the party was this week because most of his friends had been on vacation earlier. Mike preferred hamburgers, but they had pizza at the party. It would probably fit the general populations' taste better.
The pizza had long been devoured, and all that remained were a few crumbs at the bottom of the boxes. One of his friends, Silas, a nerdy, overweight kid, was licking the crumbs from one of the boxes.
All eyes around him were on the cake, waiting for Mike's mom to cut it. Mike knew he was supposed to get the first piece, but it looked like the others would pounce on it as soon as it arrived. His mom came over with a knife to start cutting the cake.
Then the cake moved. Everybody's eyes went wide and they started screaming at the top of their lungs when the cake inched over to the edge of the table, a few centimeters at a time. Silas let out a big belch, then charged the cake with his fat little legs.
I have a bad feeling about this, Mike thought.
How fun! Mike is definitely having a birthday to remember. Please post your comments below and feel free to share.