Water is my favorite element. Except, perhaps, for air, since I wouldn't last long without breathing. But water is more than just necessary for life. It's beautiful, soothing, powerful, refreshing, tasty, and lots of fun.
We're at the beach this week, and every morning I can't wait to get back out on the sand and feast my eyes on the ocean. Its incredible beauty takes my breath away each time I see it.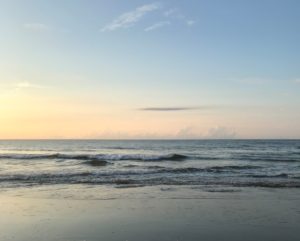 So what could be more appropriate for this week's prompt than the ocean?
Cindy stared over the ocean waves. The ever-changing colors were unnoticed, the beauty of the glistening surface unseen. All she could think about was water. Drinking water, to be precise. She licked her chapped lips with her dry tongue. Her small bottle of water hadn't last more than a few of her 67 hours on a raft under the burning sun. She lifted her hand to shade her eyes and once more scanned the horizon. Could there be speck of brown to the right? Or was it just hopeful imagination?  The spot seemed to grow, and Cindy caught her breath. Could it truly be land? 
She cupped her hands and tried to row by pushing the water on either side of her raft. Soon her arms ached and her thirst grew extreme. A cool breeze brushed her face and she glanced up at the sky. Ominous dark clouds roiled in the west and choppy waves bounced her life raft like a small twig in a rippling brook. She eyed the speck of land in the distance. It seemed closer, but could she make it before the storm hit?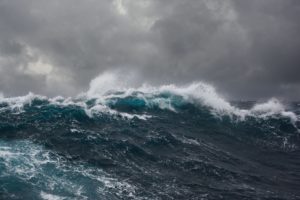 Be creative and have fun. I am looking forward to hearing the rest of Cindy's story.